Suzuki TL1000S Racebike

Deutsche Version
In Winter 2006 I bought this 2nd TL1000S and modified it for racing. It has been used as track bike for three seasons until 2009, every season finished with the victory in the TL1000 Cup. By the end of 2009 this bike has been sold.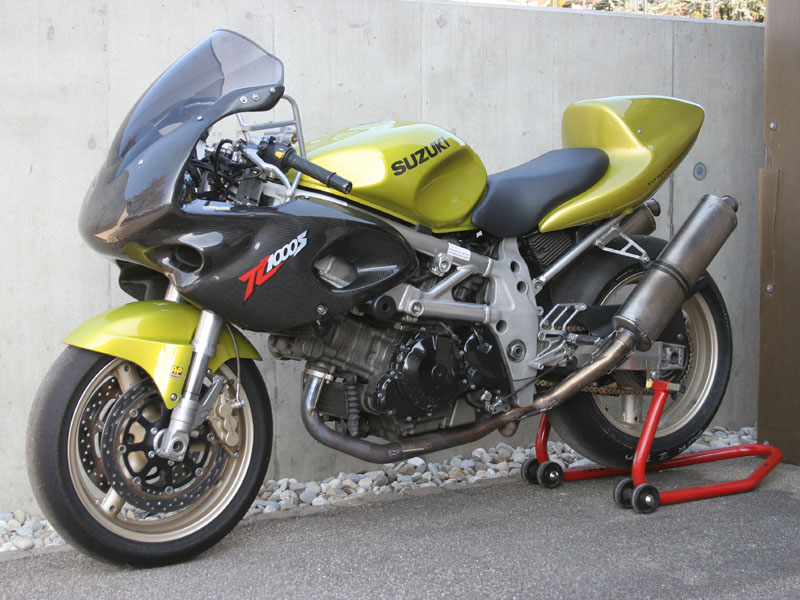 Photo: March 2009, with new/repainted fairings.
Specifications 2009
Engine

Suzuki TL1000S 1998 engine. All internals except the clutch are stock. Slipper clutch by Suter.
Akrapovic Race full system
Airbox mod, BMC air filter


Tyres
Dunlop. KR106 / KR108 or GP Racer slick, KR191 / KR393 wet
Fairings
Front: Carbon fairing from Bikeroffice, MRA racing screen
Rear: Fiberglass race tail from Fiber Customs
Paint of rear fairing: Carosserie Leuenberger
Decals: Appalachian Signs
Suspension

Front: Forks completely rebuilt (Springs, Damper setup, hydrostops, friction reduced) by Stäger
Steering Damper: Ohlins
Rear: Wilbers 641 shock (custom, 5mm longer), Spring by Lindenmann Engineering, custom spring guide by Stäger. Adjustable linkage.

Wheels
Stock Suzuki TL1000 / GSX-R SRAD cast aluminium rims. 3x front rim, 3x 6" rear rim, 1x 5.5" rear rim.
Brakes
Front: Tokico 6 piston calipers (lightweight coated pistons) with GSX-R 750 K4 radial master cylinder and steel braided lines. Stock rotors. AP racing carbon brake pads.
Rear: GSX-R 1000 K1 rear caliper, steel braided line. GSX-R K1-K8 and custom machined TL rotors.
Oil
Castrol Actevo 10W40 (looking for a sponsor ;)
Transmission
DID 530 chain, usually 16/39 final drive ratio
Pit
TTSL tyre warmers, front and rear stand
Other
SMI rear sets
Custom machined crash pads.
Performance
Engine power output: 128 hp (dyno)
Racebike weights about 20kg less than streetbike.
Gear
AGV Ti-Tech helmet
Dainese Kirishima V Professional tailor-made one piece leather with Dainese back protector
Daytona Evo Sport boots
Best results
2007: Winner of German TL1000cup (4th Lausitzring, 1st Oschersleben)
2008: Winner of German TL1000cup (2 wins, a 2nd place) and endurance ranking with team Bikeroffice; 2nd and 4th place in V2 class of Speer Race meetings
2009: Winner of German TL1000cup (3 wins, 2 second places), 2nd place in SPS-Race Dunlop Cup, 8th position in Swiss Open Brno.
Special thanks to:
My parents, Brechühl Motos (mechanic, parts), Stäger Motos (suspension), Bikeroffice (tyres+service, parts), Kaderli Motos (tyre service).
Others: Carosserie Leuenberger, Hässig Burgdorf, Kasol Motos, Hansruedi Küpfer, Stefan Merz, Moto Center Thun, Finn Engel, Dorfgarage Ersigen, SIGWA, Carosserie Spahr