Suzuki GSX-R 1000 K5 race bike
Bought in October 2009 as a road bike, then transformed into a race bike during winter 2009/2010. Back to stock 2016, now serves as my road-bike.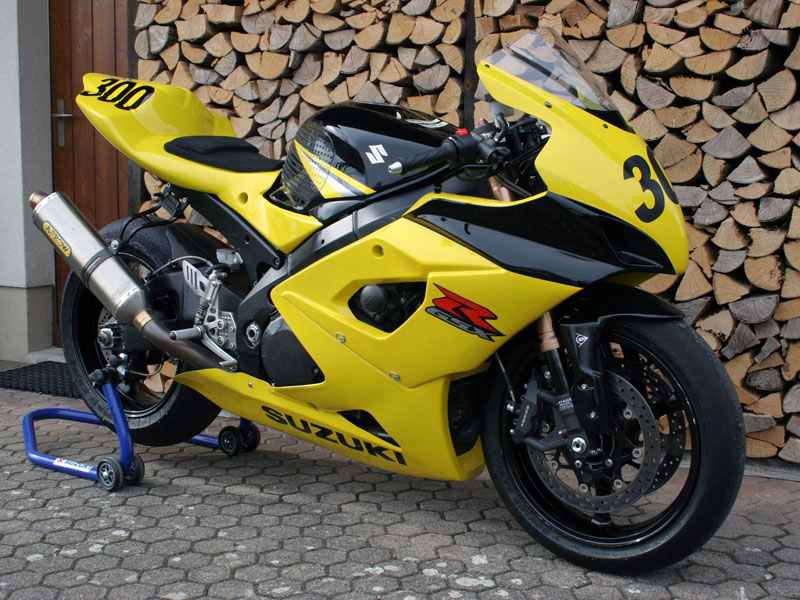 Photo: March 2011
Specifications
Engine

Suzuki GSX-R 1000 K5 (2005)
Arrow full system
BMC air filter


Tyres
Dunlop. Race slicks: KR106 / KR108. Wets: KR191 / KR393
Fairings
Fibreglass race fairings, ramair tubes und aluminium fairing holder from TTSL. Aluminium rear sub frame from CNC Saller
Paint: Carosserie Spahr
Stickers: Aufkleberwerkstatt.de
Suspension

Front: Ohlins FGK 119 cartridge (25mm) with +20mm caps from Kyle USA. Steering damper: Ohlins SD-030
Rear: Ohlins SU-503 (custom setup).

Wheels
Stock rims from various GSX-R models. 3x front wheel, 3x 6" rear wheel
Brakes
Front: Tokico 4 radial calipers (stock) with Brembo 19x20 radial master cylinder and steel braided lines. Stock rotors. AP Racing or Performance Friction Carbon brake pads.
Rear: stock
Oil
Motorex 10W40
Transmission
DID ERV3 520 racing chain, 16-45 to 16-42 final drive ratio
Pit
TTSL tyre warmers, front and rear stand
Other

Woodcraft CFM rearsets with fixed pegs and levers, RC Racing adjustable rearset plates, Gilles shiftholder. HM quickshifter.
LSL Sport Match clipons, Yamaha R6 1/5 turn throttle.
Kevlar engine cover protectors


Performance
Power output: 178PS (Suzuki)
Racebike weights about 10kg less than a stock streetbike.
Gear
AGV Ti-Tech Evo helmets
Dainese Kirishima V Professional tailor-made one piece leather with Dainese back protector / Arcuoso one piece leather with Dainese back protector.
Daytona Evo Security boots / Daytona Evo Sport boots
Held Phantom / Arcuoso gloves
Best results
2015: 3th position Speer Cup Slovakiaring.
2014: 2nd Speer Cup Slovakiaring, 3rd Speer Cup Mugello. 6th Swiss Open 1000 Ledenon. 4th overall Speer PowerCup
2013: 2nd position Speer Cup Oschersleben ("Wet Superpole")
2012: 5th position Speer Cup Race, Brno.
2011: 1st position in Valentinos Superpole Cartagena 25.3.2011. 3rd place in Speer Racing sprint race, Hockenheim 15.5.2011. 1st place GSX-R forum race Oschersleben, 10.7.2011
2010: 3rd place SPS-Race Dunlop cup, Lausitzring. 2nd place Swiss Open, Slovakiaring.
Thanks to :
My parents, Brechühl Motos (mechanic, parts), Stäger Motos (suspension), Dorfgarage Ersigen (engine oil, tools), Carosserie Spahr Ersigen (paint)
Diverse: Carosserie Leuenberger, Hässig Burgdorf, Hansruedi Küpfer, Moto Center Thun, Kaderli Motos, Ducati Bern, Bikeroffice, GL Motorradtechnik, Arcuoso